May 20, 2023

The next issue of Barbed is coming in 2023/2024.


---
11/27/2021



Cover by Trisha Holt, Deadstock | Archival Pigment Print | 43 x 28 in. | 2019

Barbed issue #11, Photography as a Medium, curated by Jetshri Jetshri Bhadviya

"Photography as a Medium"

This issue features extraordinary artists who explore how photography transforms; from traditional to contemporary, literal to conceptual and 2 dimentional to 4 dimentional artform. The studio visits with the artists shared within this issue challenges our perception of the medium and its use in a multidisciplinary capacity to have eye opening conversations about diversity and anthropocene.

Jetshri Bhadviya is our guest curator and editor for this issue. Ms. Bhadviya is an Indian woman, non-immigrant alien, artist, scholar, educator, curator and a studio art activist currently living and working in Michigan. She received her MFA from Cranbrook Academy of Art in 2015 and BFA from American University in Dubai in 2009. Currently she is a Special Lecturer in the Art & Art History Department at Oakland University and an Adjunct at College For Creative Studies. She is a multimedia artist who uses photography, videography, sound, and performance to explore how human bodies activate a space and how they are perceived in a social, political, and spiritual environment.

FEATURED ARTISTS:

Ryan Debolski
Rickey Weaver
Precious Johnson-Arabitg
Shanna Merola
Halima Afi Cassells
Trisha Holt

This is issue is financially sponsored by:
Grinstein Jewelry & Design
Cranbrook Academy or Art



---
02/12/2021

Barbed Magazine issue #10 is officially out! Thank you, artists, for your patience while we navigate during these difficult times. This issue features some incredible artists from the Metro Detroit area and those from afar in Mexico and Israel.

Artists featured:

Abel Hernández
Hilla Shapira
Naama Levit
Sam Albaugh
Stephanie Mele
Zeke Moores

---
12/09/2020

Barbed is pleased to announce issue #10, Escultura de la Frontera: Border Sculpture.

Featuring:

Abel Hernández
Hilla Shapira
Naama Levit
Sam Albaugh
Stephanie Mele
Zeke Moores

Barbed's issue #10 Fall - Winter 2020/2021

With a release date in late December.



---
09/20/2020

Barbed Magazine is pleased to announce its latest call for submissions: Issue #10, 'Escultura de la Frontera: Border Sculpture.'

The issue will look at if and how living in border towns influences artists' work and whether they feel the need to alter their environment to fit into a multicultural landscape surrounded by country limits, barbed-wire fences, industry, bodies of water, border-crossing, scanners, police presence, and, more recently, border closures.

Although we live in border towns, it is necessary to say that this is not always on our minds, so it's intriguing to see how the artwork created has an intrinsic aspect that goes unnoticed or how significant it is to contextualize it in such a way.

Issue #10 will emphasize the existent contrast between Detroit, Michigan, and Windsor, Ontario, in Canada. Through their location, the twin cities share some similar aspects in terms of their industries, economies, and cultural specificity. The issue gives particular attention to works created by members of minority groups and artists that have called either of these cities their home.

All work created within the last two years will be considered. Finished or in-progress pieces will be accepted. Also, submissions in the form of proposals, sketches, writings, and notes will be considered. The selected artist will receive an honorarium upon confirmation of funds.

More information can be found here.


---
04/15/2020

We are in the process of launching a new site called barbedmag.art - featuring all of the artists that have been a part of Barbed during these six years! Stay tuned for the release date, as we finish a few details.


---
03/23/2020

Barbed magazine is pleased to announce the upcoming Spring/Summer issue entitled "Painting: Conceptually Speaking." The issue will be available online-only for the time being, as although we have been committed to producing each issue in high-quality print format, due to the current state of world events and uncertain funding, we have decided to suspend the regular 'printing' schedule temporarily.

The new issue will include works selected from artists living in Metro Detroit, including Canada. The Spring/Summer issue will be based on virtual conversations, and studio visits focused on each of the artists' practices and how painting as a medium plays a role in their works.

Painting as a subject or as a medium is regarded as one of the purest forms of art and expression. While it is an expansive art form, we often focus on the technique or lack of and too rarely spend time on the intrinsic topics the artists are trying to address and convey.

This issue will be by invitation only as there will not be an open call for public submissions. The selection of artists will be based on how their work fits the context of this issue's theme. Once the issue is published online, it will be available to view for free, along with an open party event tentatively planned for late Summer.

As we reluctantly venture into going digital-only, our wish for the future Fall issue is that, by then, we will all be in a better place.

With best wishes,


Arturo Herrera
Founder, Editor-in-Chief



---
11/19/2019

Barbed's Fall launch Party, issue 8.

Thank you for coming!

Photos by: Eli Gold, and Barbed Magazine.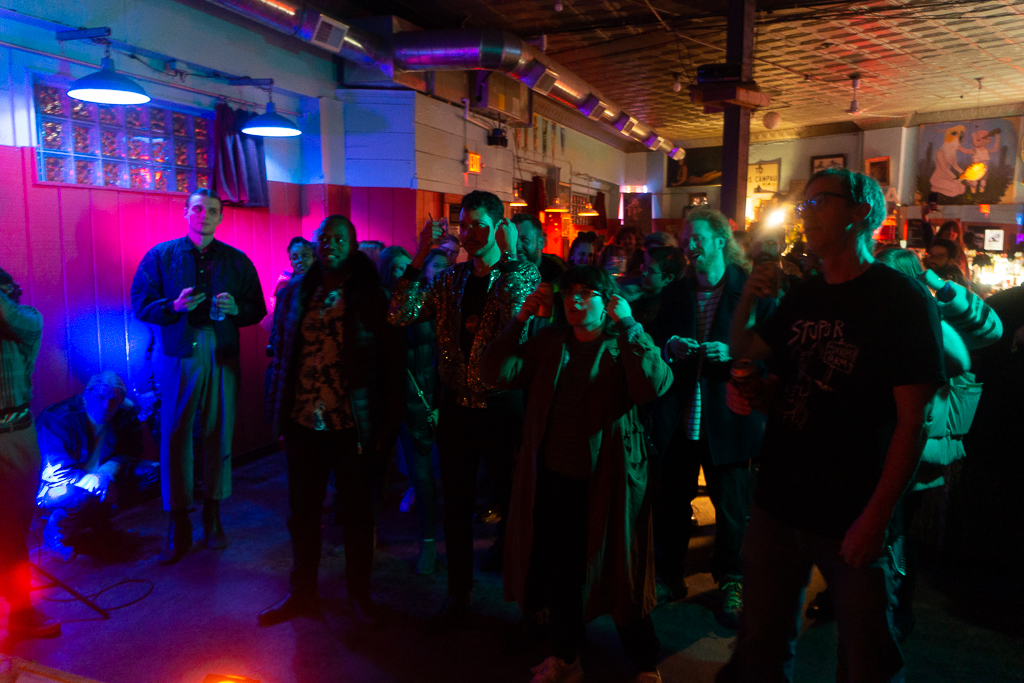 ---
10/24/2019
Barbed Magazine Fall Launch Party:


Join Barbed to celebrate issue 08, "Beyond Measure: A Performance Art Survey in Metro Detroit and Windsor." Have a drink, dance and see the featured artists perform. With Leslie Rogers, Jetshri Bhadviya, Jessica Rose Frelinghuysen, Cristin Richard, Moira Maloney, Scott Crandall, Nadja Pelkey, Jude Abu Zaineh, Adrienne Crossman, Erica Gressman, Melanie Manos.

Dance party by Especially Good DJs.

We are excited and especially grateful to be hosted by Outer Limits Lounge, one of our favorites venues in town!

Saturday November 16th,
8:00 PM - 2:00 AM

Outer Limits Lounge


---
08/25/2019


Barbed Magazine is pleased to announce the group of artists for issue #08, Fall 2019, entitled "Beyond Measure: A Performance Art Survey in Metro Detroit and Windsor."

Adrienne Crossman, Canada @fakechildhood
Scott Crandall, US @s.quaredog
Nadja Pelkey, Canada @easiestprovidencetodraw
Cristin Richard, US @ttmoross
Jessica Frelinghuysen US @paperhelmets
Jude Abu Zaineh, US/Canada @judewheresmycar_
Moira Maloney, US @moiranmaloney
Jetshri Bhadviya, US @jethsri
Erica Gressman, US @no_egress
Leslie Rogers, US @buttflincher
Melanie Manos, US @melanie_manos

The official launch of the new issue will be hosted at a local gallery space in November with a night of cabaret-styled performance art.

Image: Series "Object Work" from the Visions for the End of the World. By Scott Crandall.

---
07/28/2019

Thank you for submitting to the latest call for submissions! The selected artists will be announce in the upcoming weeks.

---
06/21/2019

Barbed is pleased to announce the latest call for submission entitled, "Beyond Measure: a Performance Art survey in Metro Detroit and Windsor." For more information please visit the Calls section. And if you need further clarification, please send us an email to hola@artdossier.us and we'll be happy to assist!


---
04/29/2019

Launch Party.

Thank you again Red Bull Arts for hosting our event, and providing a space to show the work of some of the featured artists from the latest issue "Southwest Detroit." We had a great time!


Red Flag, photography, 2019.
Leslie Rogers
Sin Parche de Carrel, painting,
Elton Monroy Durán, 2018. Red Flag, photography, 2019. Leslie Rogers. Installation view. Red Bull Arts, Eastern Market, Detroit, MI. 2019
---
04/11/2019
From Red Bull Arts - Detroit
Please join us on Saturday, April 27th from 7-10pm to celebrate the launch of the seventh edition of Barbed Magazine with live music and performances. The Red Bull Arts Detroit Micro Grant, received by Arturo Herrera, partially funded the production of this issue, entitled "Southwest Detroit."

The evening will showcase work by some of Barbed #7's featured artists including Karilú Alarcón Forshee, Leslie Rogers, Elton Monroy Durán, and DJ sets by Daniel James and Zbornak. The magazine will be available for purchase at the event.

Of the new edition, Herrera says, "with Barbed issue #07, we wanted to capture artists' perspectives on collaboration in Southwest Detroit by focusing our attention on grassroots organizations and how they function as an occupational model for artists. We sought out to discover autonomy by generating vibrant public spaces, works, and ideas through collaborative performances. As a magazine, we see the need for the return of storytelling in real time. Barbed wishes to share the stories of artists in the region so our readers can understand their impact on the community. We are very proud of our artist selection and the content created for this issue."

Barbed #7 is supported in part by the National Association of Latino Arts and Cultures, the Andrew W. Mellon Foundation, the Ford Foundation, Southwest Airlines, and the Surdna Foundation through a grant from the NALAC Fund for the Arts Grant Program, and by Red Bull Arts Detroit Micro-Grant.


---
03/15/2019

Barbed is pleased to announce the support from Red Bull Arts through a Detroit Micro-grant for the upcoming issue 07, Southwest Detroit. We could not be more thankful for their support! Thank you, Detroit!



---
03/04/2019


Barbed Magazine is proud to announce that the issue 07 entitled Southwest Detroit is supported in part by the National Association of Latino Arts and Cultures, the Andrew W. Mellon Foundation, the Ford Foundation, Southwest Airlines, and the Surdna Foundation through a grant from the NALAC Fund for the Arts Grant Program. And by Red Bull Arts Detroit Micro-Grant.


---
02/25/2019
Barbed Magazine is pleased to present the cohort of artists for the Winter issue, #07 entitled "Southwest Detroit." The group of artists includes those that live, work, or have deep connections with what is more commonly known as Mexicantown and its heritage. Please give them a warm welcome!

Sacramento Knoxx
Elton Monroy Duran
Leslie Rogers
Luke Maddaford
Max Majaros
Ziquita Riberdy
Josue Fierro
Karilú Alarcón Forshee

The new issue will be available in mid-March, following with a launch party. The location and more details for the event will be announced later in March.

Image: Featured artist Karilú Alarcón Forshee in a collaborative performance with Leslie Rogers, and Elton Monroy Duran, on February 15, 2019. Photo by Ashley Ward.


---


Las Soldaderas, work in progress, 2018. Elton Monroy Duran interim studio.

A collaborative performance piece for issue #07, entitled "Southwest Detroit," from Barbed Magazine, Detroit, Michigan.

Artists Karilú Forshee (LA MUJER, An Ode to Women), Leslie Rogers (Red Flag), and Elton Monroy Duran (Las Soldaderas) invite the general public to attend this free event on February 15, 2019, at 3:00 p.m. The event will be hosted by the Mexicantown Community Development Corporation and held at the interim studio on the second floor. The performance piece will feature artists from the seventh issue of Barbed Magazine, to be released on March 15, 2019. The performance will address themes that inspired the artists to collaborate through these particular works. The event will focus on Las Soldaderas or Adelitas, who were women in the military who participated in the Mexican Revolution. The artists explore power; power that uplifts, and power that seeks to dominate and eradicate. This event is open to all ages.

Karilú Alarcón Forshee is a Mexican performer and teaching artist, raised in the border town of Ciudad Juárez. She graduated from the University of Texas at El Paso with a degree in theater arts and English-Spanish translation. She has been a Detroit based artist since 2011 and a member of the theater company A Host of People. She considers herself a multidisciplinary artist who finds joy in making theater, singing and creating performance art. Her artistic work is influenced by the entire Latin American Diaspora. She finds profound inspiration in her roots and the women in her family. As a bilingual teaching artist she works primarily with the Southwest Detroit community. It is her greatest passion to use the power of the arts to transform the lives of children.

Leslie Rogers is a sculptor, performance artist, and puppeteer. Her arts background is in puppetry and quilting, with degrees from the Maryland Institute College of Art (BFA) and Virginia Commonwealth University's Sculpture & Extended Media program (MFA). Her work draws from slapstick entertainment, collaborative relationships, gender tropes, and the fiber arts to disregard or erase perceived hierarchies between performer and object, and amongst art forms and social groups.

Rogers has been awarded artist residencies at ACRE, AS220, Art Farm Nebraska, Mildred's Lane, the University Musical Society at the University of Michigan, and postdoctoral research fellowship from the Michigan Society of Fellows at the University of Michigan. She lives and works in Detroit.

Elton Monroy Duran is a Detroit-based visual artist born on December 22, 1978 in Ciudad Sahagun in the State of Hidalgo, Mexico. Duran acquired a BFA from the School of Fine Arts at the University of the State of Querétaro (1998-2003). He describes himself as a humanist artist with scientific and sociological approaches, which he seeks to convey through his work. He is developing a pictorial work under the name ¨CORPUS," which reflects the concern for the welfare of the body and the human soul. He started the mural and art company Corpus Art Inc. in Detroit in 2016.




Mexicantown Community
Development corporation
2835 Bagley, Detroit Michigan
Second floor

Time: 3:00 PM - 4:00 PM
Date: February 15, 2019

For more information please contact:

Barbed Magazine
barbedmag.com
hola@artdossier.us

PO Box 2064,
Birmingham MI
48012 USA




---
Update 02/09/19. This position has been filled. Please check again later for more opportunities! Thank you for your interest.

Barbed is hiring! Please read below.

Barbed Magazine is hiring a qualified individual to function as an Editorial Intern for the seventh issue, Winter 2018 - 2019, term. Barbed is a contemporary art magazine in the Metro Detroit area, and it features studio visits, mini show reviews, and the works of artists who live in the region including cities in Canada. Founded in September 2014, Barbed promotes the work of women-identifying artists, artists who identify as LGBTQ, and other artists from minority communities.

The Editorial Intern works under the direction of the Founder—Editor and is responsible for writing, editorial, research, and support duties to help in the publication materials, both in print and online.

Duties include:

-Interview transcripts, format and layout of text

-Rewrites, composes, and proofreads documents such as artists bio's and statements, descriptions, and footnotes, and makes necessary style changes as needed

-Manages email communications with featured artists and third parties

-Researches copyright notices from works included in the issue

-Assists in publishing online media, including e-newsletters and social platforms

-Assists in planning, developing, and promotion of launch events for the magazine

-Other responsibilities as assigned

The Editorial Intern reports to the Founder—Editor of the magazine and is expected to work between 10 - 20 hours per week for a limited period of one to two months.

Pay rate: $10 per hour.

Start date: February 1, 2019.

Minimum qualifications:
-Excellent written and verbal communication skills and strong vocabulary, spelling, and grammar skills.

-Experience with InDesign, Word, Pages, and other design and writing tools.

-Experience with social platforms.

-Attention to detail and the ability to work both independently and in group settings.

-An interest in the arts in Detroit. A background in the art community is a plus!

Please apply to hola@artdossier.us. Together with your application, send your resume and a cover letter to tell us more about yourself. Include any project samples that will demonstrate that you are capable of fulfilling this position. The review of applicants will begin immediately, and only those who meet the qualifications will be contacted for an interview.

Members of minority groups and underrepresented communities are encouraged to apply.

This job is part-time.


---
PRESS RELEASE
Detroit, Mich., August 17, 2018. Barbed, announces the launch of its latest issue entitled "Suburbia is Calling" with a performance art party on Saturday, August 18th at 7PM. Barbed is a contemporary art magazine that features studio visits, mini show reviews, and artists from the LGTBQ, Asian, Black, Latino, immigrant and other minority communities. The issue is focused on the theme of suburbia, the interpretation, relationship, and reaction to the concept is originated from an artist call and several studio visits throughout the neighborhoods of Detroit.

On this evening, artists were invited to continue to interpreted further their understanding of the original idea and created new pieces for the event. Each one prepared a piece; using performance art, the new work will explore culture and body image. Artists performing on the event are; Melanie Manos, As Jackie the Ripper, Manos makes a full-tilt ripping leap into sports cult/ure, sports hero/ine worship, gear fetish and machismo. Troy Hoffman performing collaboratively with Starr Delour Shannon, with their piece; Put Your Hands Up, originating from the club context, the formal aspects of the performance become personal codes for Starr's existence. Gregory Hatch, Costume for skin performance #1: a ritual about toweling off a body you wish could change. And Andrew Mehall with a reading from his article titled "HOW DID YOU GOT HERE? (HIDDEN VALLEYS)". Barbed's Launch Party is hosted by CAVE Detroit, an independent artist-run gallery located at the Russell Industrial Center, 1600 Clay St, Detroit.





Barbed presents the second iteration of #suburbiaiscalling -
A Performance art - Launch Party. Featuring performances by Melanie Manos, Troy Hoffman, Andrew Mehall, and Greg Hatch.

Come and celebrate the works of featured artists on this issue.
This event is hosted by CAVE Detroit, at the Russell Industrial Center, 1600 Clay St, Detroit at 7 pm.

Copies of the 6th issue Suburbia Is Calling, and other artwork will be availible on the night of the event.

Photos from the event, 8/18/2018: